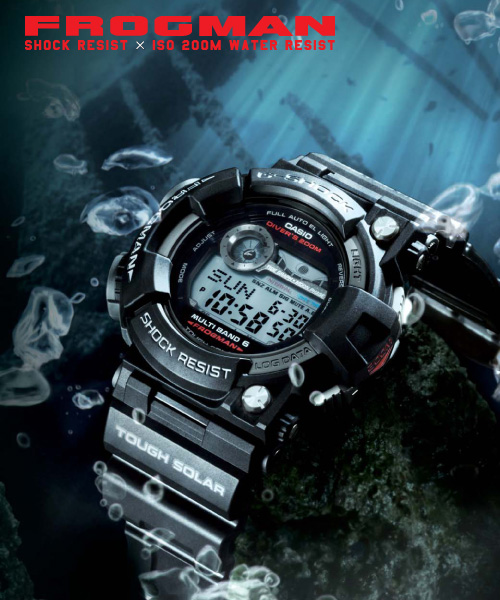 From the special-purpose function Master of G Series comes a FROGMAN model that combines outstanding water resistance with solar power capabilities. A new type of receiver antenna and metal case make it possible to pack a receiver that can pick up six time calibration signals around the globe into a configuration that is ISO level water resistant up to 200 meters.
Features include 10-record log data memory, a high-speed Tide Graph, high-accuracy Moon Data, and other features that come in handy while diving.
The two front screws are made of milled stainless steel, while the ring around the sub display window is made of polished milled aluminum.
The screw on case back is done to a highly wear resistant diamond-like carbon (DLC) finish.
The latest technology, quality materials, and refined designs put these new FROGMAN models in a class all their own.


MULTIBAND 6 reception of six time calibration signals: Japan (2), United States, Germany, England, China
Tough Solar eliminates the need for battery replacement.
ISO 200-meter water resistance