Tokyo, April 22, 2019 — Casio Computer Co., Ltd. announced today that it will release a new G-SHOCK made in collaboration with the legendary boxing brand, Everlast. The new GBA-800EL from the G-SQUAD line of fitness watches arrives in a matte red reminiscent of boxing gloves, with the world-famous Everlast logo engraved on the case back. The distinguished logo also appears on the dial and band, and the LED backlight illuminates to show what Everlast has become known for being, the "Choice of Champions."
Step Tracker
The GBA-800EL is equipped with a three-axis acceleration sensor to keep track of step count as well as walking/running pace. The digital display shows the step count and hourly step graph, and the status indicator displays the target achievement rate.
When paired with a smartphone via Bluetooth®, the watch automatically sends the measured data to the G-SHOCK Connected app four times a day, and the user can also do manual transmissions. The app can display the steps taken, calories burned, and step count graph broken down by five metabolic equivalent (MET) levels for each day, week and month. By linking with the smartphone's GPS function, the app can also display the exact location on a map where the wearer's steps were taken, calories burned and MET levels, providing a whole new way to use G-SHOCK for training.

App screens shown here may differ from actual screens.
Timer for Interval Training
Configure up to 20 sets of five timers on the app. Create workouts with timers for interval training. Call up the created workout and send it to the watch to start the training right away.
App screens shown here may differ from actual screens.
In addition, users can perform the following functions from the G-SHOCK Connected app:
Lists recorded stopwatch data and sets the target time.
Automatically corrects the home and world time including adjusting for daylight savings, four times per day.
Easily set the dual time display choosing among some 300 cities in the world from the G-SHOCK Connected app.
Phone Finder function enables a smartphone alarm to be activated by pressing a watch button.
Easily set time, including alarms, adjusting hand positions, time switching, and more.
Everlast
The preeminent brand in boxing since 1910, Everlast is the world's leading manufacturer, marketer and licensor of boxing, MMA and fitness equipment. From legendary champions Jack Dempsey and Sugar Ray Robinson to current superstars Dustin Poirier and Deontay Wilder, Everlast is the brand of choice for generations of world champion professional athletes. Built on a brand heritage of strength, dedication, individuality and authenticity, Everlast is a necessary part of the lives of countless champions. Based in Manhattan, Everlast's products are sold across more than 75 countries and 6 continents. Visit www.everlast.com for all the latest information.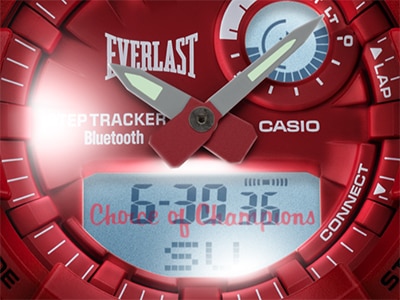 Specifications
Construction

Shock-resistant

Water Resistance

200 meters

Communication Specifications

Communication Standard

Signal Range

Up to 2 meters (may differ depending on surrounding conditions)

Step Counter

Step Count display (0 to 999,999), Step Goal Progress display (in 5-percentage-point increments / step count goal setting range: 1,000 to 50,000, 1,000-step increments), Step Count Graph (hourly step count for the past 11 hours on a 6-level graph), Step Indicator, power saving (auto sensor sleep-mode entry after fixed period of non-activity)

Stopwatch

1/100 second (up to 60 minutes) / 1 second (60 minutes or more); measuring capacity: 59:59'99" (for the first 60 minutes), 1:00'00 to 23:59'59 (after 60 minutes); measuring modes: elapsed time, lap times; lap/split time switching; 200 measurement data set recording (measurement start month, date, and lap/split times); target time alarm function (up to 10 alarms, measuring unit: 1 second)

Countdown Timer

Interval measurement (up to 5 timers); measuring unit: 1 second; countdown range: 60 minutes; countdown start time setting range: 1 second to 60 minutes; auto repeat (up to 20 times); auto start; progress beeper

Alarm

5 daily alarms; hourly time signal

Other Features

Mobile Link functions (link with compatible smartphone through Bluetooth®), dual time (home time swapping), hand shift feature (analog hands temporarily move out of the way of the digital display for unobstructed viewing), full auto-calendar, 12/24-hour format, button operation tone on/off, double LED light (LED light for the face / LED backlight for the digital display, Super Illuminator, auto light; afterglow with selectable illumination duration: 1.5 seconds or 3 seconds)

Accuracy at Normal Temperature

±15 seconds per month (without linking to a smartphone)

Battery Life

Approx. 2 years on CR2016

Size of Case

54.1 × 48.6 × 15.5 mm

Total Weight

Approx. 61g
*1

The Bluetooth® wordmark and logo are registered trademarks of Bluetooth SIG, Inc. and any use of these marks by Casio Computer Co., Ltd. is under license.