Casio to Release New G-SHOCK MT-G Watch With Vintage Look Achieved by Aged IP Treatment

MTG-S1000V
Tokyo, June 12, 2015 — Casio Computer Co., Ltd., announced today the latest new G-SHOCK MT-G shock-resistant watch. The new MTG-S1000V watch has a vintage look achieved by Aged IP treatment.
The MT-G Metal Twisted line pairs the outstanding shock-resistance of G-SHOCK watches with sophisticated metal finishes that go great with a business suit. The original MTG-S1000, released in 2013, is particularly well-regarded for its solid look and the shock-resistance delivered by its new Core Guard Structure.*1
*1 The central core module, made from resin, is protected by an inner case that is enclosed in a metal frame as if the case is floating inside the frame. The frame is secured to the bezel and back case with four pipes to guard the module from impacts.
The new MTG-S1000V adds a black ion plating finish to the tough and elegant look of the original MTG-S1000 watch. The ion plating is then partly buffed off to give the watch a vintage look that brings to mind the other prized possessions of tougher men—cars, motorcycles, lighters, and leather gear. The watch features Triple G Resist construction*2 for the ultimate in durability, and it has useful features such as dual dial world time to instantly tell the time in two locations. The MTG-S1000V is a great tool for men who lead active lives and demand rugged performance.
*2 Reinforced construction to resist shocks, centrifugal force and vibrations.
Like the MTG-S1000 watch, the new MTG-S1000V watch, including its movement, is made at the Premium Production Line of Yamagata Casio Co., Ltd., which is renowned for engineering excellence and quality. The MTG-S1000V delivers all the toughness and reliability a man expects of a premium Made in Japan watch.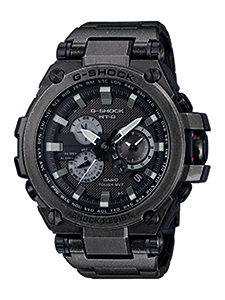 MTG-S1000V
| Aged finish for a vintage look | Made in Yamagata, Japan |
| --- | --- |
Construction

Triple G Resist (shock-resistant, resistant to centrifugal gravitational force and vibration-resistant)

Water Resistance

200 meters

Radio Frequency

77.5 kHz (DCF77: Germany); 60 kHz (MSF: UK); 60 kHz (WWVB: USA); 40 kHz (JJY: Fukushima, Japan) / 60 kHz (JJY: Kyushu, Japan); 68.5 kHz (BPC: China)

Radio Wave Reception

Automatic reception up to six times a day (except for use in China: up to five times a day); manual reception

World Time

29 cities (29 time zones; daylight saving on/off; daylight saving time (summer time) auto switching/ standard time and Coordinated Universal Time

Stopwatch

1/20-second stopwatch; measuring capacity: 120 minutes; auto-start

Countdown Timer

Measuring unit: 1 second; countdown range: 120 minutes; countdown start time setting range: 1 to 120 minutes

Other functions

Automatic hands correction; daily alarm; full auto-calendar; battery recharge warning

Power Source

Tough Solar power system (solar-charging system)

Continuous Operation

About 27 months with the power-saving function

*

ON after full charge

*

Power-saving after a certain period in a dark location

Size of Case

58.6 × 53.5 × 15.5 mm

Total Weight

Approx. 188 g