Casio Releases New G-SHOCK RANGEMAN
Tough Watches Designed to Help in Survival Situations
G-SHOCK toughness with triple sensors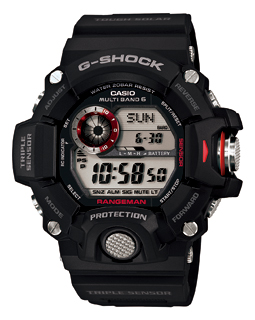 Tokyo, September 11, 2013 — Casio Computer Co., Ltd., today announced the release of its RANGEMAN watches, the latest addition to its G-SHOCK brand of shock-resistant watches. These tough watches are equipped with triple sensors whose rich functionality provides support for the wearer, even in survival situations.

Since the release of the original G-SHOCK watch in 1983, the brand has continued to evolve, with construction and design all based on outstanding shock-resistance. As part of the G-SHOCK line, the "Master of G" series of watches is designed for use in the most extreme environments with some models featuring rust-resistant, dust-resistant, or mud-resistant construction. These watches have been well received for delivering the ultimate in toughness and performance.

The RANGEMAN GW-9400 watches are the latest additions to the "Master of G" series and provide functions, construction and operability designed to support the wearer, even in survival situations. The new watches incorporate triple sensors to measure compass bearing, altitude/atmospheric pressure, and temperature—a first for a G-SHOCK watch. Users can check compass bearing information in situations with limited visibility for orienting, or use barometric information to forecast sudden changes in weather, making these G-SHOCK watches reliable partners in situations where there is little room for error.

The RANGEMAN watches are equipped with a dedicated triple-sensor button that can start measurement with a single press. This is useful in situations where every second matters, such as rescue operations and ranger duties. Each sensor mode can be set to have a unique notification sound, so the user can confirm the triggered sensor mode in the dark, without looking at the watch face. The stopwatch and time stamp function, which records the time, can also be activated with one press of a button.

The case design features a newly developed cylinder structure to guard the sensor button, enhancing shock-resistance and making the button easier to press.

The new G-SHOCK models are reliable partners for rangers and rescuers who work in harsh environments, combining toughness with expanded sensor-based features. As with other "Master of G" series watches, the back is engraved, this time with a stylized image of a wild cat, a creature known to roam freely in the jungle, symbolizing the strength to survive harsh environments.
| Model | Body Color |
| --- | --- |
| GW-9400-1 | Black |
| GW-9400-3 | Khaki |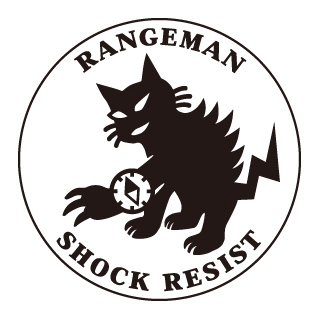 Construction

Shock-resistant

Water Resistance

200 meters

Radio Wave Reception

Automatic reception (up to six times a day); manual reception

Radio Frequencies

77.5 kHz (DCF77: Germany); 60 kHz (MSF: UK); 60 kHz (WWVB: USA); 40 kHz (JJY: Fukushima, Japan) / 60 kHz (JJY: Kyushu, Japan); 68.5 kHz (BPC: China)

Digital Compass

Measures and displays direction as one of 16 points with the second hand; measuring range: 0° to 359°; measuring unit: 1°; 60 seconds continuous measurement; graphic direction pointer; magnetic declination correction; bidirectional calibration and northerly calibration function

Barometer

Measuring range: 260 to 1,100 hPa (7.65 to 32.45 inHg); measuring unit: 1 hPa (0.05 inHg); atmospheric pressure differential graphic; atmospheric pressure tendency graph (past 42 hours graph display); barometric pressure tendency information (arrow and warning tone indicate significant pressure changes)

Altimeter

Measuring range: -700 to 10,000 m (-2,300 to 32,800 ft.); measuring unit: 1 m (5 ft.); auto log data (high/low altitudes, auto cumulative ascent and descent); others: relative altitude readings (-3,000 to 3,000 m); measurement interval setting (every 5 seconds / every 2 minutes)

Thermometer

Measuring range: -10 to 60°C (14 to 140°F); measuring unit: 0.1°C (0.2°F)

World Time

48 cities (31 time zones; daylight saving on/off) and Coordinated Universal Time

Stopwatch

1/10 second; measuring capacity: 1000 hours; measuring modes: elapsed time, split time, 1st and 2nd place times

Countdown Timer

Measuring unit: 1 second (maximum 24 hours)

Alarm

5 independent daily alarms; hourly time signal

Other Functions

Manual memory measurements (memory capacity: up to 40 records of altitude, atmospheric pressure and temperature, compass bearing and/or time can be saved); full auto-calendar; 12/24-hour format; sunrise/sunset time display; daylight graph; battery level indicator; button operation tone on/off; full auto LED backlight (Super Illuminator) with afterglow; selectable illumination duration: 1.5 or 3.0 seconds

Power Source

Tough Solar™ power system (high-capacity solar-charging system)

Continuous Operation

About 23 months with the power-saving function

*

ON after full charge

*

Display shuts off after a certain period in a dark location

Size of Case

55.2 × 53.5 × 18.2 mm

Total Weight

Approx. 93 g