Casio Releases Big, Bold "G-SHOCK" Watches
Reinforced shock-resistant construction featuring gel materials to cushion shock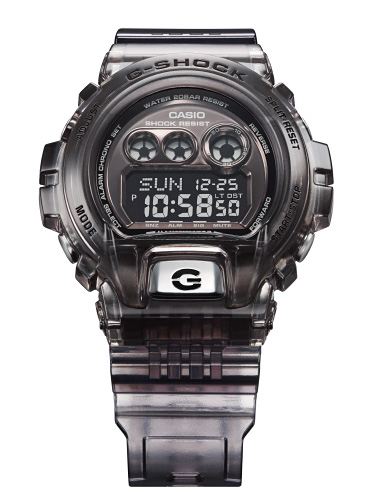 GD-X6900FB-8B
Tokyo, August 8, 2013 — Casio Computer Co., Ltd., announced today the release of the latest new addition to its G-SHOCK line, the GD-X6900FB. This big, bold watch features a uniquely powerful design that exudes pure shock-resistance.
Since introduced in 1983, Casio's G-SHOCK watches have remained true to a tough basic construction
*1
that not only delivers shock-resistance but also naturally lends itself to a variety of unique designs. Meanwhile, their functionality and performance have continued to evolve, making G-SHOCK a bestseller with worldwide shipments surpassing 65 million
*2
units.
*1 The unique shock-resistant construction of G-SHOCK watches includes a bezel designed to prevent direct impact to the glass face and buttons if the watch is dropped, a hollow structure inside the case with only a few points that support the timekeeping module so that it effectively floats in the space, and an interior layered with cushioning material to protect key parts such as the crystal oscillator.

*2 As of March 31, 2013
The GD-X6900FB features a big body that takes the individuality of G-SHOCK watches one step beyond with a shape that practically explodes with presence. While drawing on the round form of the globally popular DW-6900 model, the GD-X6900FB makes an eye-catching statement with its enlarged case and side buttons, which are 8% larger and 70% larger than the DW-6900, respectively. Additionally, the back of the bezel features αGEL
®
*3
for absorbing shock, delivering the same shock resistance the world expects of a G-SHOCK, but in a bigger, bolder design.
*3 A highly vibration-absorbent soft gel made of silicon and other materials
The GD-X6900FB comes in four models: black with a glossy finish and gold accents, white with a chic dark watchface, and skeleton gray with silver accents or gold accents. The accents are applied to metal finish parts such as the watch face, side buttons, and screws. Both models have a stylish design that is sure to influence street fashion. The translucent materials used in the skeleton gray model reveal the shock-resistant gel material on the back of the bezel to emphasize the rugged construction. With bright LED backlighting for enhanced readability and a 10-year battery life, the GD-X6900FB offers an optimal combination of toughness and practicality.
| Model | Color |
| --- | --- |
| GD-X6900FB-1 | Black & Gold |
| GD-X6900FB-7 | White & Black |
| GD-X6900FB-8B | Skeleton Gray & Silver |
| GD-X6900FB-8 | Skeleton Gray & Gold |
| GD-X6900FB-1 | GD-X6900FB-7 |
| --- | --- |
| GD-X6900FB-8B | GD-X6900FB-8 |
| | |
| --- | --- |
| Construction | Shock-resistant |
| Water Resistance | 200 meters |
| World Time | 48 cities (29 time zones); daylight saving on/off |
| Stopwatch | 1/100-second stopwatch; measuring capacity: 23:59'59.99"; split time; other: 5-second countdown auto-start |
| Countdown Timer | Measuring unit: 1 second; countdown range: 24 hours (1-minute increments);auto-repeat; time-up alarm |
| Alarm | 3 multi alarms (with 1 snooze alarm); hourly time signal |
| Other Functions | Full auto-calendar; 12/24-hour format; button operation tone on/off; LED backlight (super illuminator and afterglow) |
| Accuracy at Normal Temperature | ±15 seconds per month |
| Battery Life | Approx. 10 years on CR2032 |
| Size of Case | 57.5 × 53.9 × 20.4 mm |
| Total Weight | Approx. 84 g |
αGEL® is a registered trademark of Taica Corporation in Japan, the United States, and other countries.