Casio Releases G-SHOCK Watches
Capable of Controlling Smartphone Music Players
Featuring Bluetooth® v4.0, These Watches Enable Two-way Operability with a Smartphone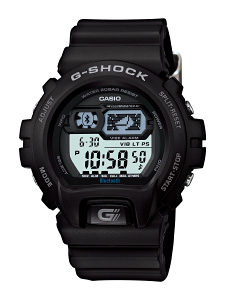 GB-6900B-1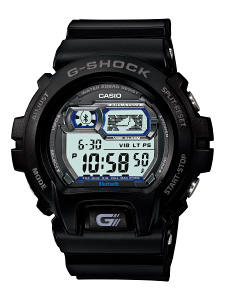 GB-X6900B-1
Tokyo, August 8, 2013 — Casio Computer Co., Ltd., announced today the release of the GB-6900B/X6900B
*1
shock-resistant watches. These new watches feature improved communication that uses Bluetooth
®
v4.0 with low energy wireless technology and is powered by a second-generation engine which enables two-way operability between a paired smartphone and the watch. Users can now control a smartphone music player from the watch, or adjust watch settings from a smartphone.
*2
*1 These watches are equipped with the LSI Bluetooth® Low Energy LSI ML7105 wireless technology jointly developed with LAPIS Semiconductor Co., Ltd.

*2 Available features depend on the smartphone model. For a list of supported smartphones and detailed specifications, visit here.These features require the G-SHOCK+ application, which is available for download from the App Store for iPhone or Google Play for GALAXY S4. G-SHOCK+ will be made available for download concurrently with the release of the watches.
This year, Casio released the GB-5600AB /6900AB watches that can communicate with an iPhone, to enable features such as an audible, vibration or display notification on the watch when there is an incoming call or email, and auto synchronization to time data received from a paired smartphone. The watches grabbed attention among fans of innovative, next-generation time devices.
The new watches released today come with a second-generation engine, which not only ensures a stable connection, but also enables remote two-way operability with a smartphone, greatly enhancing not only usability itself but also the number of things the user can do. In addition to the previous notification features, the watches offer richer, two-way operability with a smartphone. A button on the watch can be used to operate smartphone applications, and a paired smartphone can be used to set features on the watch, such as the timer and alarm.
The GB-6900B takes its shape from the classic G-SHOCK DW-6900, while the GB-X6900B has a big watchcase to emphasize toughness, also influenced by the design of the DW-6900. The GB-6900B comes in four models, and the GB-X6900B comes in three models.
Compatible with the following smartphones (as of August 8, 2013):
•iPhone 5/iPhone 4S(iOS6.0~6.1)

•GALAXY S4 (Android4.2.2)
| Model | Color |
| --- | --- |
| GB-6900B-1 | Black |
| GB-6900B-1B | Black×blue |
| GB-6900B-3 | Green |
| GB-6900B-7 | White |
| GB-X6900B-1 | Black |
| GB-X6900B-2 | Blue |
| GB-X6900B-4 | Orange |
Construction

Shock-resistant

Water Resistance

200 meters

Communication
Specifications

Communication
Standard

Bluetooth® v4.0

Signal Range

Up to 2m (may differ depending on surrounding conditions)

Watch
Functions

World Time

100 cities (35 time zones, daylight saving on/off) and Coordinated Universal Time (UTC)

Alarm

5 daily alarms or one-time alarms (with 1 snooze alarm), hourly time signal

Stopwatch

1/100-second; measuring capacity:999:59'59.99";
elapsed time, split time, 1st and 2nd place time

Countdown
Timer

Setting accuracy: 1 second; 100-hour maximum per set; unit of measure: 1/10-second

Light

LED backlight (super illuminator and afterglow); auto light switch; selectable illumination duration: 1.5 or 3.0 seconds

Other Features

Mobile link; vibe alert; tap function; full auto-calendar, 12/24-hour format; button operation tone on/off; low battery warning; power-saving function

*

*

Mobile Link turns off automatically after a fixed amount of time to save power

Accuracy at Normal Temperature

±15 seconds per month

Approx. Battery Life

Approx. 2 years on CR2032

*

*

Mobile link used 12 hours per day

Size of Case

GB-6900B: 53.2×50.0×18.7mm
GB-X6900B: 57.5×53.9×20.4mm

Total Weight

GB-6900B-1B/GB-6900B-3/GB-6900B-7: Approx. 65g
GB-6900B-1: Approx. 70g
GB-X6900B: Approx. 82g
Bluetooth is a registered trademark of Bluetooth SIG, Inc. iPhone and App Store are trademarks of Apple Inc. in the USA and other countries. Galaxy S is a registered trademark of Samsung Electronics Co., Ltd. Android and Google Play are trademarks of Google Inc.