Casio Releases G-SHOCK Watches with Color Variation,
Based on GA-100 Model
Giving a Popular Model a Great-fitting, Strong Cloth Band

(from left) GA-100MC-1A4/GA-100MC-1A/GA-100MC-2A
TOKYO, July 1, 2013 — Casio Computer Co., Ltd., announced today the release of four new G-SHOCK watches.The new GA-100MC watches feature cloth watchbands designed especially to match with street fashion.

Since initially released in 1983, G-SHOCK watches have added many innovative functions, construction, and design features to their outstanding shock-resistance.In terms of design, in particular, G-SHOCK watches exude a strong presence that expresses their toughness, with some models featuring colors that are one step ahead of the fashion trends and others created in collaboration with clothing brands Casio has continued to capture the character of youth culture through the distinct evolution of its G-SHOCK brand.

These GA-100MC models, with their distinctive color variations, are based on the popular GA-100 model, which boasts analog indicators and digital displays in a dynamic face design.The four new watches released today feature color schemes perfect for street fashion.

Three of the new watches are finished in black with accent colors of grey, orange, and green, respectively, and one is finished in blue and accented in red.The wristband is made of strong cloth that fits great, colored to match the watch body finish to create a unified total look.
| Model | Color |
| --- | --- |
| GA-100MC-1A | Black & Grey |
| GA-100MC-1A4 | Black & Orange |
| GA-100MC-2A | Blue & Red |
| GA-100MC-3A | Green & Black |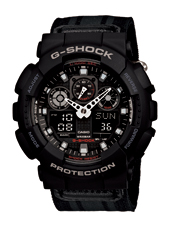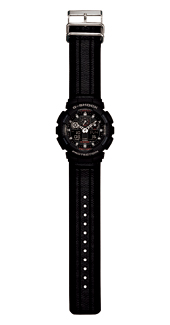 GA-100MC-1A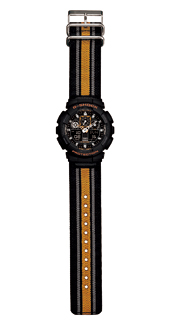 GA-100MC-1A4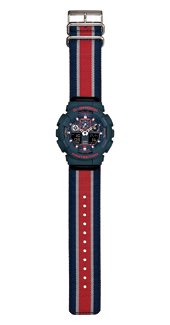 GA-100MC-2A

GA-100MC-3A
| | |
| --- | --- |
| Construction | Shock-resistant, ISO-compliant magnetic-resistant |
| Water Resistance | 200 meters |
| Main Functions | World time for 48 cities (29 time zones, daylight saving on/off) and coordinated universal time; 1/1000-second stopwatch with velocity indicator; countdown timer; 5 independent daily alarms (of which 1 snooze alarm); hourly time signal, full auto-calendar, 12/24-hour format; LED light (auto light switch and afterglow, selectable illumination duration: 1.5/3.0 second) |
| Approx. Battery Life | 2 years on CR1220 |
| Accuracy at Normal Temperature | ±15 seconds per month |
| Size of Case | 55.0 × 51.2 × 16.9 mm |
| Total Weight | Approx. 75g |