Casio Releases EDIFICE Metal Watches With Vivid Night-time Luminescence
Featuring Neon Illuminator Combining a Black Light LED and Special Fluorescent Coating

EFR-536D-1A4V
TOKYO, January 31, 2014 — Casio Computer Co., Ltd., announced today the release of five new EFR-536 models in its line of EDIFICE metal watches, which are designed to convey the concept of "Speed and Intelligence." Employing Casio's Neon Illuminator*1 technology, which uses invisible light from a black light LED to cause parts with a special coating to glow, these new watches feature dials and hands with handsome night-time luminescence.

*1 The watch indicators, dials and hands are coated with a special luminous ink that absorbs the photic energy of black light and emits light, causing each coated part to glow vividly. Many colors are possible by using differently colored fluorescent coatings, thereby enabling a wide range of design possibilities and visibility variations.
The EDIFICE series of metal watches features distinctive indicators and dynamic movement of the watch hands. Sporting chronographs and watchfaces that evoke the image of motor sports, EDIFICE watches are becoming popular among men who prefer a sporty look.
The new EFR-536 models are the first in the EDIFICE series to feature Casio's Neon Illuminator technology. Finished with a special fluorescent coating, the watch dials and hands glow vividly when the built-in black light LED turns on in the dark. Users can enjoy the different looks presented by the watchface—which evokes a dashboard gauge in a fast vehicle—as it changes from daytime to nighttime.
The EFR-536 watches also come with highly practical features such as a 1/10-second stopwatch and an extremely airtight screw back case.
| Model | Bezel Color / Numeral Color | Band |
| --- | --- | --- |
| EFR-536D-1A2V | Silver / Aqua | Metal |
| EFR-536D-1A4V | Silver / Orange | Metal |
| EFR-536BK-1A2V | Black / Aqua | Metal |
| EFR-536BK-1A9V | Black / Gold | Metal |
| EFR-536PB-1A3V | Black / Red | Resin |

EFR-536D-1A2V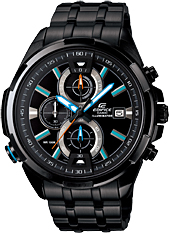 EFR-536BK-1A2V

EFR-536BK-1A9V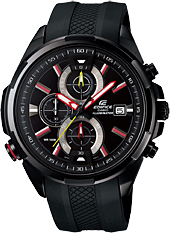 EFR-536PB-1A3V
Specification
Water Resistance

100 meters

Light

Neon Illuminator (black light LED) with afterglow

Stopwatch

1/10-second stopwatch; measuring capacity: 59'59.9''; measuring modes: elapsed time, split time, 1st-2nd place times

Accuracy at Normal Temperature

±20 seconds per month

Battery Life

2 years on SR920SW, CR1616 (light)

Size of Case

51.2×48.1×13.8mm

Total Weight

Approx.175g (EFR-536D and EFR-536BK)
Approx.105g (EFR-536PB)