Casio Releases G-SHOCK Watch That Links to iPhone
Introducing the Next Evolution of the Digital Watch: Now Bluetooth® v4.0 Compatible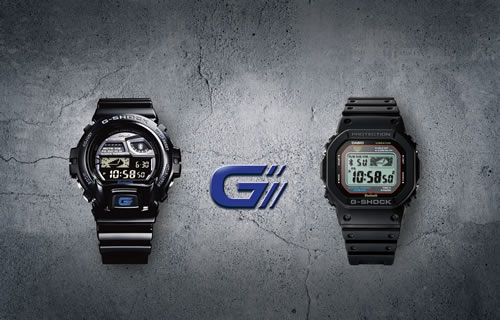 GB-6900AB-1 GB-5600AB-1
Tokyo, March 5, 2013 — Casio Computer Co., Ltd., announced today the release of the GB-5600AB and GB-6900AB, shock-resistant watches that can communicate with an iPhone.* These new additions to the G-SHOCK family are next-generation watches equipped with Bluetooth v4.0 (Bluetooth® Low Energy Wireless Technology).
* Compatible with iPhone 4S (iOS 5.1.1 to iOS 6.1) and iPhone 5. To enable connection with an iPhone 4S and iPhone 5, Casio's "G-SHOCK+" application must be downloaded from the App Store.
The G-SHOCK line of watches is always evolving in terms of technology and performance innovation. This time, G-SHOCK has taken another step forward by incorporating Bluetooth® v4.0 into these new models.

Each of these new watches can communicate with the iPhone to perform various functions such as notifying the wearer of incoming calls and e-mails and enabling iPhone alarm function from the watch button. In addition, the watch can automatically adjust itself to exact time according to different time zones by synchronizing itself to time data received from the iPhone.

The GB-5600AB and GB-6900AB are finished with other features and styling to represent their technological advancement, including a high-brightness LED backlight, two-year battery life and a special "G" logo indicating compatibility with Bluetooth® v4.0 technology.
iPhone Mobile Link Features
Notification of incoming calls and e-mails via the watch
Phone Finder function to enable iPhone alarm function from the watch
Warning vibration when the watch loses its connection to the iPhone
Time adjustment by synchronizing with time data received from the iPhone
Built-in tilt sensor to detect movement in the watch, while it is in power-saving mode, to automatically reconnect to the iPhone
Alert function
*

notifies users of updates on Facebook and Twitter
* This feature is not available in some countries and is not supported under iOS 5.1.1.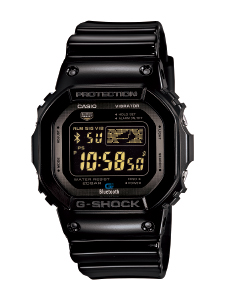 GB-5600AB-1A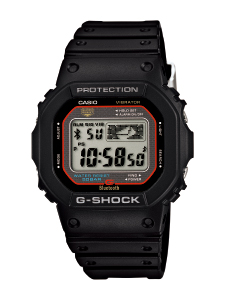 GB-5600AB-1

GB-5600AB-7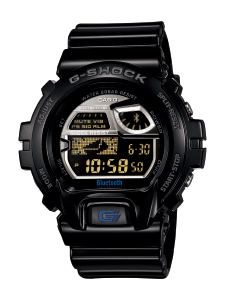 GB-6900AB-1

GB-6900AB-1B

GB-6900AB-2

GB-6900AB-5

GB-6900AB-7
GB-5600AB/GB-6900AB
Construction

Shock-resistant

Water Resistance

200 meters

Communication
Specifications

Communication
Standard

Bluetooth® v4.0

Signal Range

Up to 2 m (may differ depending on surrounding conditions)

Watch
Functions

World Time

100 cities (35 time zones, daylight saving on/off) and Coordinated Universal Time (UTC)

Alarm

5 daily alarms; one-time and daily alarm on/off function, hourly time signal

Stopwatch

1/100-second; measuring capacity: 23:59'59.59"; split time

Countdown
Timer

Setting accuracy: 1 minute; 24-hour maximum per set; unit of measure: 1 second

Light

LED backlight (super illuminator and afterglow); selectable illumination duration: 1.5 or 3.0 seconds

Other Features

Vibration function; tapping function; full auto-calendar, 12/24-hour format; button operation tone on/off; low-battery warning; power-saving function*

*Mobile Link functions are turned off after the watch is left unmoved for a certain period of time.

Accuracy at Normal Temperature

±15 seconds per month

Approx. Battery Life

2 years on CR2032*

* Assuming the communication function is used for 12 hours per day)

Size of Case

48.9 × 42.8 × 13.8 mm(GB-5600AB)
53.2 × 50.0 × 17.7 mm(GB-6900AB)

Total Weight

Approx.59 g(GB-5600AB)
Approx.64 g(GB-6900AB)
"Bluetooth" is a registered trademark of Bluetooth SIG, Inc., and iPhone and App Store are trademarks of Apple Inc. in the USA and other countries.All other company and product names are trademarks or registered trademarks of their respective companies.
Plans (as of March 5, 2013) call for these models to be released in the following countries and regions:
Taiwan, South Korea, Singapore, Thailand, Vietnam, Philippines, India, Australia, New Zealand, Panama, Argentina, Colombia, Venezuela, Chile, Uruguay, Bahrain, Egypt, Saudi Arabia, Oman, Lebanon, Kuwait, Qatar, South Africa, Turkey, Kazakhstan, and UAE

For the latest information regarding compatible smartphones and Mobile Link features, please visit the G-SHOCK Bluetooth Watch site at: http://world.g-shock.com/ble/.