Casio to Release Colorful BABY-G Watches with Dual Dial World Time
2-city simultaneous Time Display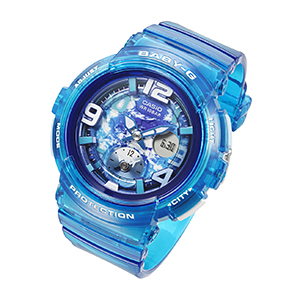 BGA-190GL
TOKYO, February 26, 2015 — Casio Computer Co., Ltd., announced today the latest additions to its BABY-G family of shock-resistant watches for women based on the concept of "Tough, Cool." The new BGA-190 watches can switch between dual time zones—perfect for women who like to travel—and are highlighted by colors inspired by the beaches of the world. The new watches will be released successively.
The BABY-G BGA-190 watches are designed for active women who travel the globe. The watches are equipped with Dual Dial World Time, which simultaneously shows Home time and World Time using the main minute/hour hands and an inset dial at the six o'clock position. When traveling, the time at home can be viewed at a glance on the inset dial in addition to the local time clearly indicated by the main minute/hour hands, perfect for women who need to communicate across time zones.
All six colors of the new BGA-190 watches are inspired by the beaches of the world, with the BGA-190-1B evoking a fantastic neon-lit beach at night, and the BGA-190-4B inspired by a beach at sunset. The BGA-190-7B takes its inspiration from a pure white, sand-swept beach, while BGA-190-3B is reminiscent of the deep blue-green of a blue hole in the ocean, and the BGA-190-9B conveys the bright sun beating down on a summer beach. The sixth color variation is the BGA-190GL-2B watch, which boasts a finely printed design on the watch face inspired by the view of Earth from space. The minute hand on the inset dial at the six o'clock position is shaped like a plane, inspiring the wearer to take off on her own adventure.

BGA-190GL
| BGA-190-1B | BGA-190-4B | BGA-190-7B |
| --- | --- | --- |
| BGA-190-3B | BGA-190-9B | BGA-190GL-2B |
| --- | --- | --- |
| Inset dial: Plane-shaped minute hand | Earth-themed watch face |
| --- | --- |
| | |
| --- | --- |
| Construction | Shock-resistant |
| Water Resistance | 100 meters |
| World Time | 31 time zones (48 cities + coordinated universal time), daylight saving on/off, city code display |
| Stopwatch | 1 second stopwatch; measuring capacity: 59'59"; measuring modes: elapsed time, split time, 1st and 2nd place times |
| Countdown Timer | Measuring unit: 1 second; countdown range: 60 minutes |
| Alarm | 1 daily alarm; hourly time signal |
| Other Functions | Full auto-calendar (to year 2099); 12/24-hour format; LED backlight (super illuminator and afterglow, selectable illumination duration: 1.5/3.0 second); hand-concealment function |
| Accuracy at Normal Temperature | ±30 seconds per month |
| Battery Life | Approx. 2 years on SR726W × 2 |
| Size of Case | 48.0 × 44.3 × 15.5 mm |
| Total Weight | Approx. 45g |